Location
TraCieloeMare is a wedding location in Torino di Sangro, on a sea view promontory close to the well known Abbey of San Giovanni in Venere, one of the artistic treasure of Abruzzo.
In a striking and enchanting ambiance, TraCieloeMare is the right place where to set your wedding, close to such important cities in Abruzzo such as Vasto, Ortona or some places of religious interest.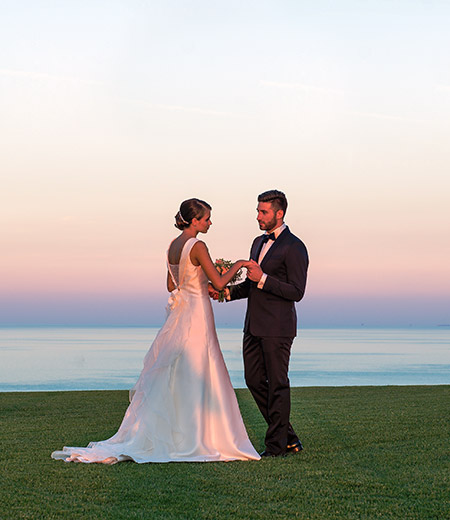 Straight
on the sea
Choose our location for your wedding means to have at disposal a location straight on the sea, that overlooks an amazing panorama, surrounded by the nature and close to one of the most beautiful mystic places in Abruzzo, with the adding of a kind and professional staff, always ready to satisfy your needs and turn a special day into a unique, perfect, memory. The favorable position offers, indeed, a breathtaking view on the Gulf of Venere and let possible to see the whole Trabocchi Coast. TraCieloeMare has also wide indoor and outdoor spaces, where it will be possible to set different kind of events, few minutes far from Lanciano, another important city in our Region, thanks to its Miracolo Eucaristico, that calls a lot of pilgrims and visitors from all over the country.
About us
Unique and wonderful location. Competent, helpful and kind staff.
It's a wonderful place ... unique panorama, here you really feel halfway between the sky and the sea. Good luck for this new adventure.
An enchanting place where the nuances of the sky and the sea transmit unique emotions!
My husband and I were the first couple of the structure .. we immediately fell in love with the place ...
A unicum of tastes, smells and colors
... Gave by the sky, the sea and the land, so that one can live a unique emotional experience.