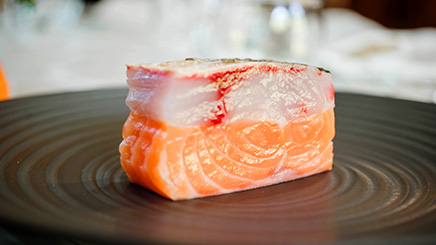 Gourmet
Gastronomic Excellence
In a very favorable position, on the Trabocchi Coast, close to the Lecceta, TraCieloeMare featured itself even thanks to the cooking, that made the our a true gastronomic excellency in the area.
Among our strong points, we offer a cooking that is able to mix together tradition and innovation, attention to the authentic tastes and for the last trends.
Our Guests will fall in love for our chef's suggestions: he will turn the best row ingredients into unique and fine dishes, that will satisfy even the most demanding one.
Everything will be even more excellent thanks to a superior service that will contribute to make unforgettable the most important day in your lives.
About us
Unique and wonderful location. Competent, helpful and kind staff.
It's a wonderful place ... unique panorama, here you really feel halfway between the sky and the sea. Good luck for this new adventure.
An enchanting place where the nuances of the sky and the sea transmit unique emotions!
My husband and I were the first couple of the structure .. we immediately fell in love with the place ...
A unicum of tastes, smells and colors
... Gave by the sky, the sea and the land, so that one can live a unique emotional experience.